Indexable Chamfering Heads
View in Shop
Our triangluar or single-edge chamfering head is best suited for high production, with-the-grain profiling, or easing of edges for primary wood manufacturers. Whether you are cutting knotty pine or solid oak, our indexable chamfering head can adapt to your specific wood machining needs.
Our head features a solid body design machined from high-strength alloy steel for maximum durability. Each chamfering head can be configured in left or right-orientation using either a single or tri-edge heavy-duty carbide insert. These tri-edge indexable carbide inserts can be rotated up to three times before having to be replaced, which decreases maintenance costs and increases production efficiency.
We offer our chamfering heads in the standard 35° and 45° angles, but we can also customize that angle using our tri-edge chamfer cutter. For customers with existing chamfer heads, we also manufacture a number of single-edge chamfer inserts available in different sizes and hole patterns found on machines throughout the market.
Our chamfering head can be customized in the following ways:
Outer diameter: 7″ to 14″
Cut width: 1″ to 1.5″
Multiple angle configurations
Indexable carbide inserts (single and tri-edge)
Keyway: 1/4″, 3/8″, 1/2″
If you require a something not specified on this page please contact us to see if we can accommodate your specific needs.
All chamfer inserts can be sharpened or replaced at our in-house service center. Inserts sent in for service go through an incoming quality check to determine if they can be resharpened. If they have been reground multiple times and become too small or become excessively chipped they will be replaced.
Give us a call today at 1-800-369-4242. We look forward to working with you!
Download Diagram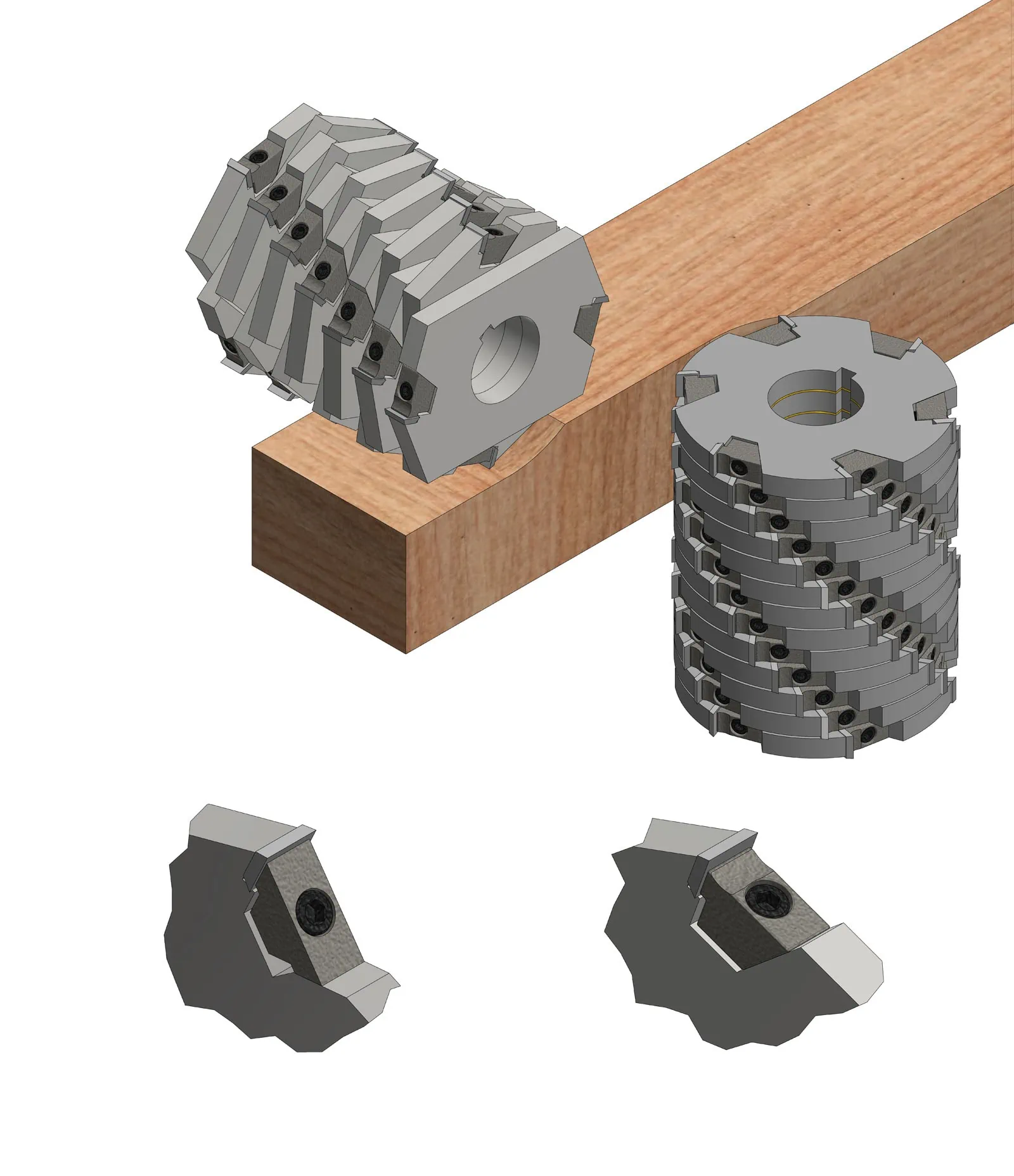 Wedge block – PT 515 – Heavy Duty Wedgeblock for large gullet design
Heavy-duty indexable carbide insert – 1/2″ tall x 9/16″ wide x 1/8″ thick x 2-sided
New lumber (green or KD) – PT 501
Frozen or knotty lumber – PT 501-L (blue)
Mixed (new wood + recycled) – PT 501-N (yellow)
Mostly recycled wood – PT 501-NX
Socket head cap screw – PT 511 : 1/4″-20 x 3/4″
PT 511-L : 1/4″-20 x 1″ (Optional)
Wedge Block – PT 510 – Standard heavy duty wedge block