View in Shop
New wooden pallet manufacturers and sawmills typically install our planer head (aka: cant sizer) in front of a resaw or gangsaw to size a cant to final dimensions before being re-sawed into stringers or deck boards. Our planer heads can be extremely versatile in the sawmill industry (on shaving or scrag mills) to square a log face and generate shavings (where a slab would otherwise have been generated).  Rather than sending those slabs to expensive waste streams, our planer heads help to create a more desirable by-product which maximizes the ROI of your raw material.
Our planer heads can also benefit pallet recyclers to re-size re-purposed pallet components with the use of our Nailbuster® carbide inserts. An example of this would be the Auburn Yield Pro.
We have a variety of carbide grades we can insert in this head to cut various wood types:
Whatever your requirements for sizing lumber before re-manufacturing, our heavy-duty planer head is economical, customizable, and durable providing long-term profits and lower-maintenance costs. They can be customized for high-feed planing (on solid, multi-tooth bodies) or low-feed grooving (on quick changeover, split-bodies).
Most configurations on our planer heads are keyed to create a helix which reduces the noise when compared to that of traditional high-speed, steel-knife planer heads. We offer the following configurations in our cant sizer/planer heads:
Outer diameter: 6″ to 14″
Width: 1/2″, 3/4″, or 1″ increments
Inner diameter: 5/8″ to 3″
Indexable carbide inserts (reversible)
Keyed: 1/4″, 3/8″, 1/2″
2 – 24 wing configurations
If you require different parameters other than those mentioned above please inquire on our contact page.
All carbide inserts can be sharpened or replaced at our in-house service center. Inserts sent in for service go through an incoming quality check to determine if they can be resharpened. If they have been reground multiple times and become too small or become excessively chipped they will be replaced.
Give us a call today at 1-800-369-4242. We look forward to working with you!
Download Diagram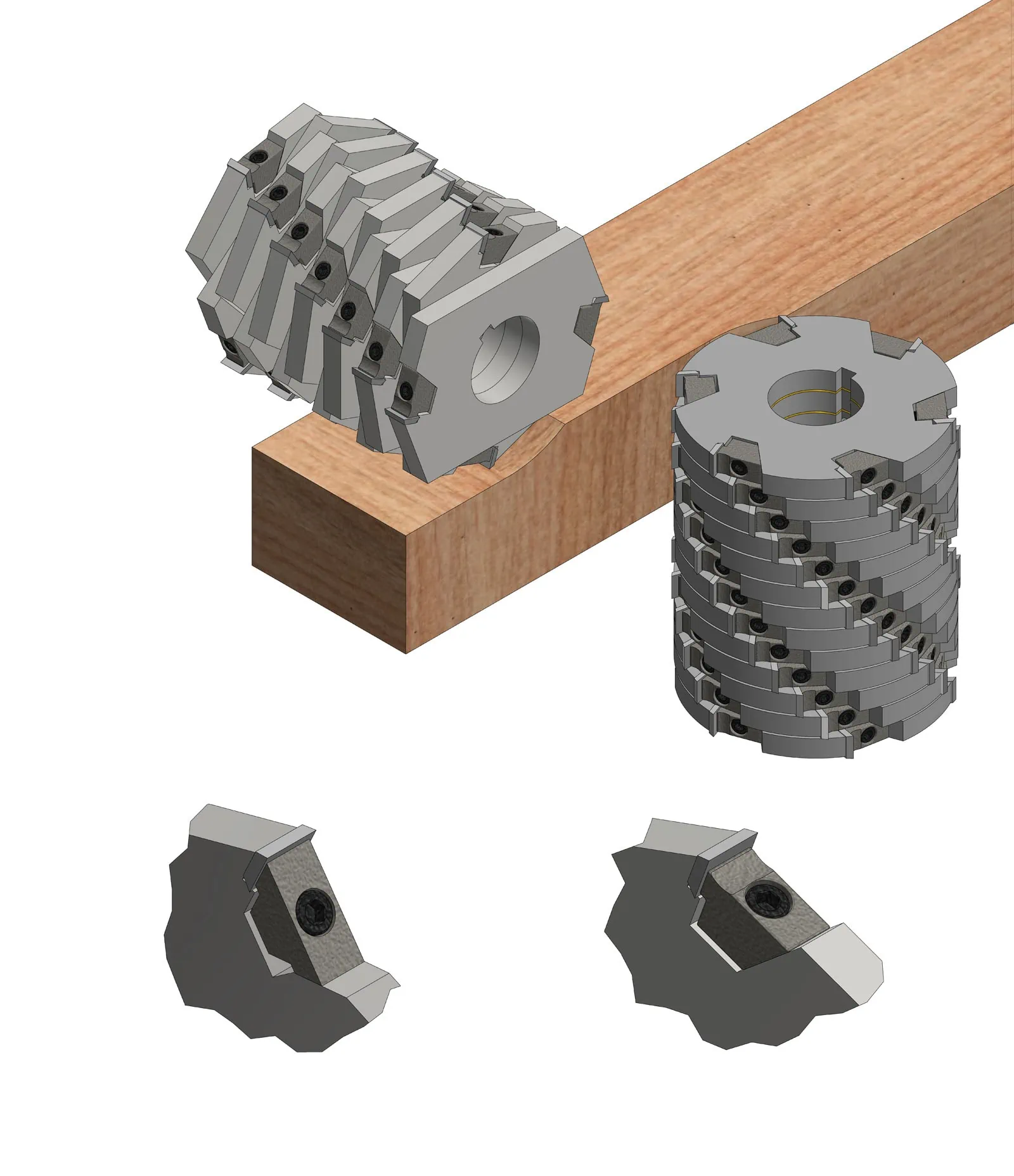 Wedge block – PT 515 – Heavy Duty Wedgeblock for large gullet design
Heavy-duty indexable carbide insert – 1/2″ tall x 9/16″ wide x 1/8″ thick x 2-sided
New lumber (green or KD) – PT 501
Frozen or knotty lumber – PT 501-L (blue)
Mixed (new wood + recycled) – PT 501-N (yellow)
Mostly recycled wood – PT 501-NX
Socket head cap screw – PT 511 : 1/4″-20 x 3/4″
PT 511-L : 1/4″-20 x 1″ (Optional)
Wedge Block – PT 510 – Standard heavy duty wedge block