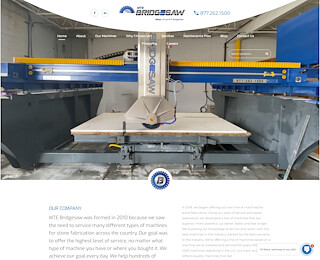 Select the Best Stone Bridge Saw
A quality bridge saw for marble and granite is a must for anyone in the stone fabrication industry. They provide accurate, consistent, high-quality cuts. Besides, a good granite bridge saw is still the smartest investment to grow your business, even if the rest of your tools are hand tools, and is sure to boost your production and profitability.
However, investing in a top stone bridge saw is not as easy as it sounds. There are a variety of makes, models, and configurations to choose from on the market. How do you know which one is ideal? You must apply specific criteria, which allows you to choose the best alternative among the bridge saws and CNC machines on the market.
The Ultimate Guide to Selecting the Best Stone Bridge Saw
Bridge & Beams
Surface stability is crucial for quality results and consistent production. That's why the first thing to consider is the sturdiness of the bridge and beams. Keep in mind that if you are cutting stone or granite, you are dealing with the hardest materials on the planet, and a poor quality bridge will cause the piece to move, with poor quality results. Prefer pieces constructed of solid materials such as cast iron, and make sure the equipment will hold enough weight.
Oil Bath
During operations, employees are essentially focused on production, and it is common for equipment maintenance procedures to be neglected. That's why any self-maintenance item is a plus in your bridge saw. The oil bath prevents wear on rollers and bearings, which is especially useful in such a hostile environment as stone production. This device will help reduce maintenance and repair costs and extend the life of the equipment.
Controls
A top wholesale bridge saw provider will offer you different types of controllers and configurations, of which the programmable ones are the best. These will allow for different types of operation, including manual, semi-automatic and automatic. Be sure to choose a centralized model, to avoid the operator having to constantly walk around the equipment. It must also be intuitive and easy to program, to ensure productivity.
Water System
A standard bridge saw can consume 15 or more liters of water per minute, so it is vital to select a model that allows for efficient water consumption. Equipment with automatic valves saves time and maintains continuity of production. There are even some systems that recycle the water already used, which are perfect if production is very high and you need to control that expense.
The Motor
The size of the motor will depend on your production volume, and the type of parts you are cutting in your shop. If your production is low, a saw with a 10-15 horsepower motor will do it. However, if your daily production is high, or you are constantly cutting thick parts (3 cm or more) you should consider a 20-horsepower motor at best.
Buy at the Top Provider
If you are looking for the leading wholesale CNC bridge saw provider for making your investment, you are in the right place. BridgeSaw.com is the leading provider of bridge saws in the USA, and we are at your service. We have the best selection of new, refurbished, and used equipment at the most competitive prices in the market. Contact us for service, or to inquire about our incredible prices and financing.